One of the most popular ways to accomplish a custom design on a car is by using vehicle vinyl wrap. It's used to completely cover the exterior and it's a great way for a car-lover to pimp their ride to match their personality.
Car wraps can be both protective and cosmetic. A few different looks of vinyl wrap include chrome, matte, and gloss.
Some people use car wrap to conceal exterior damage, although this isn't recommended. Today we're discussing everything on car wrap prices and how you can become more knowledgeable on the "wrap game".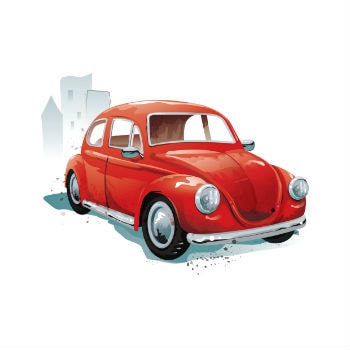 Are Vinyl Car Wraps Expensive?
Vinyl car wrap jobs are customizable and therefore unique to each individual client.
The factors that determine the cost include the year, make, and model of the car, the current condition of the paint, whether it has already been wrapped or not (and needs to be re-wrapped), and whether the wrapped vehicle is for personal or commercial use.
Additionally, specific styles cost more than others.
Some companies would charge around $12 to $15 per square foot of cast vinyl wraps and $5 to $8 per square foot of calendared wraps.
Others would simply charge a flat rate based on the type of vehicle being serviced.
Keeping these factors in mind, the total overall cost to vinyl wrap a car is estimated to be about $2,000 – $6,000.
Let's break it down.
Firstly, the size and type of vehicle greatly affect the price. This is due to the number of vinyl film sheets that are used and, of course, a larger vehicle will have more space to cover.
Cars that have a more complex design will take longer versus one with a standard design. Certain models have fenders and curves which aren't exactly your garden variety. A personal car and a commercial truck have wildly varying dimensions.
A car or truck that has chipped, peeled old paint cannot be wrapped. The vehicle will need to be re-painted before work can commence, which can turn costly.
A solid color car wrap for a personal automobile will include the material and installation, and to cover the full exterior of a standard 2-door car will cost about $2,500 – $3,500.
A 4-door vehicle will cost between $3,500 and $5,000. Expect to add an additional variable amount on top of this if you want extra grills, antennas, or other after-market parts to be installed.
Specialty films with a texture like carbon fiber, leather, and brushed metal will add about $800 – $1,000 on top of the price of a wrap.
Chrome wrap is very expensive, as it is the most expensive type of vinyl and difficult to install – its price starts at around $6,000. Other finishes besides chrome range in price between $2,000 and $4,500.
Partial wrapping costs around $200 to $3,000 with coverage between 40% and 90%.
Roof wrap – $250
Hood wrap – $250
Rear window – $300+
Side panel wrap –$300+
Commercial wrapping for trucks, cars, and larger vehicles will typically start at $2,000 for 2-door and range from $3,000 – $5,000 for 4-door. The pricing will vary depending on the shop location.
Some recommended body shops for you to check out are CM Graphics USA, Vinyl Ink, and Riveting Wraps. At CM Graphics, for example, a full color-change wrap ranges from $3,600 – $4,500.
VinylInk Custom Wraps in California provides vehicle wraps for advertisement purposes. Also, they are a certified installer of Avery Dennison and 3M products.
| Wrap Coverage | Standard Cargo | Small Cargo | SUV/Minivan | Sedan/Coupe |
| --- | --- | --- | --- | --- |
| Full Wrap | $2,600 to $3,000 | $2,400 to $2,900 | $2,900 to $3,300 | $2,500 to $2,900 |
| 90% | $2,200 to $2,700 | $2,000 to $2,600 | $2,600 to $3,000 | $2,200 to $2,700 |
| 60% | $1,700 to $2,400 | $1,200 to $1,900 | $1,900 to $2,500 | $1,500 to $2,300 |
| 40% | $900 to $1,600 | $700 to $1,200 | $900 to $1,900 | $700 to $1,700 |
| Windows Only | $180 to $250 | $180 to $250 | $600 to $800 | $300 to $600 |
| Cut Decals | $300 to $700 | $300 to $600 | $300 to $700 | $250 to $600 |
Here are more service providers that offer vehicle wrapping from lettering, partial wrapping, and full wrap.
| Name | Price |
| --- | --- |
| First Class Auto Sports | Starting at $350 to $400 |
| Absolute Perfection | $140 to $,1600 |
| Wrap Guys America | $495 to $2,495 |
| BB Graphics | $2,500 to $5,000 |
| Lucent Wraps | Starting at $750 |
| North West Auto Salon | $4,200 to $7,250 |
What is A Vinyl Car Wrap?
The very first car wraps were made for advertising purposes. Marketers would commission vehicles such as buses, light-rail carriages, and automobiles to be completely covered in vinyl sheets which depicted an advertisement.
This essentially turned the vehicle into a mobile billboard. Pepsi Co is believed to be the first company to use car wraps as advertisements in 1993 when it promoted its Crystal Pepsi product.
Eventually, people began to wrap their cars for aesthetic purposes and a wider range of car wrap products flooded the market.
Vinyl wraps come in various looks – they can be glossy, satin, matte, chrome, brushed, carbon, or custom. These different finishes help to give the vinyl wrap a smooth look and provide a greater variety of options for consumers.
At the moment, the vast majority of people that choose a car wrap go for vinyl car wrapping, usually in the matte black style.
But chrome wrap is another style that has been gaining much popularity in recent years, thanks to celebrities such as Justin Bieber and Flo-Rida. Chrome wrap is shinier and more reflective, but experts say that Chrome has some problems conforming to the lines of certain cars.
According to 3M, arguably one of the most popular companies which manufacture vinyl car wrap, it is working on creating a more durable product as chrome wraps are difficult to work with at the moment. It's important to remember that chrome wrap is not actually made of chrome, but is simply a vinyl wrap created in the visual style of chrome.
Color-Change and Paint Wrap are terms used to indicate a complete change from one color to provide more options to consumers toward achieving the perfect personalization. Wraps can be either a plain color, include partial graphics, or be completely made of images.
Although many people believe that it's a good idea to wrap a car in vinyl in order to cover up flaws in the paint, this isn't good for a variety of reasons.
Wrapping won't work to hide a scratch or chip. In fact, it will just magnify the problem and make it worse. It should also never be used to conceal rust. For this reason, it's advised to have your car inspected and freshly painted before investing in a wrap.
Vinyl car wraps can work as an extra layer of protection for your car's paint, which is quite useful especially if you've invested in expensive metallic paint.
One thing that most car owners don't know is that vinyl wrap can be completely removed without affecting the paint at all. This makes wrapping a great investment and a cheaper way to provide protection and make the car look good at the same time.
The average lifespan of the vinyl is around 5 to 8 years with proper maintenance and care. The lifespan of the vinyl can extend up to 10 years or more with minimum exposure to extreme conditions. In regards to sustainability, the vinyl is replaceable from panel to panel.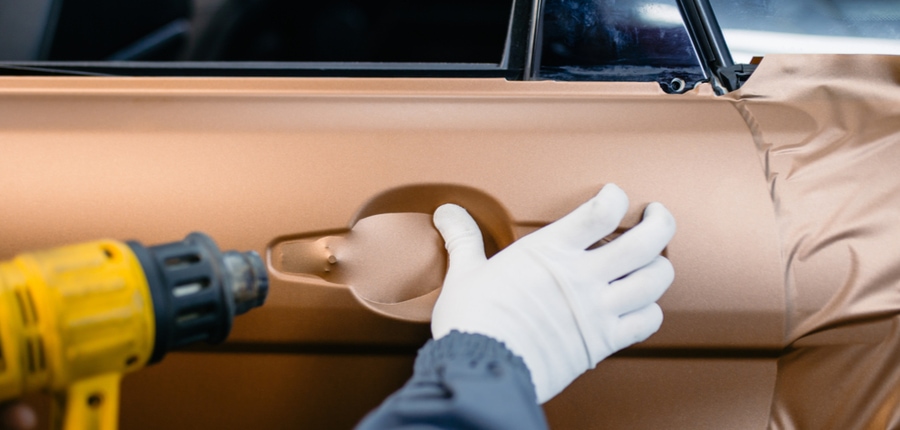 How to Maintain Your Vinyl Car Wraps?
If you've just recently gotten your car wrapped, the next thing for you to think about is how to conduct proper maintenance.
Although vinyl wrap is used as protection, it also needs to be cleaned regularly in order to keep the colors looking vibrant and fresh. Here's a couple of things that you can do to ensure the quality of your vinyl car wrap:
If you use your car a lot, the wrap should be washed about once a week.
The best way is to wash it by hand using a commercial cleaner such as 3M Car Wash Soap 39000 or Meguiar's NXT Generation Car Wash. The 3M soap costs about $15 for a bottle of 16 fluid ounces while the NXT Generation soap costs $9.
A good finisher coat of wax helps – use 3M Quick Detailer Spray or Meguiar's Ultimate Quik Wax. A 16 fluid-ounce bottle of 3M wax is priced at around $13 while Meguiar's product costs about the same for a 15.2 fluid-ounce bottle.
Make sure you use a soft and clean sponge to do the actual cleaning. Rinse the car well after washing. A squeegee can help to remove dried watermarks and a dry microfiber cloth will sop up the last of the moisture.
It's recommended to hand wash, as a drive-through car wash might use bristles and brushes which are too rough and damage the vinyl. If you see bird droppings, insects, or tree sap, do not leave them in contact for long – conduct a cleaning session as soon as possible.
Avoid Leaving Your Car Outside
Excessive exposure to the elements outside the garage can be detrimental to the quality of your vinyl car wrap.
Some of the factors that can work to degrade the material are rain, dirt, and pollutants from the road, burning hot sunlight, and smog. The roof, hood, and trunk lid are the areas that get the brunt of UV exposure the most.
Keep your car parked in a garage or covered parking lot as much as possible, and if you absolutely need to leave your car outside, at least make sure it's in a shaded area.
Be Careful with The Cleaning Products You Use
It's advised to always stay away from the following items and never use them on car wrap: engine degreaser, orange oil, oven cleaner, commercial kitchen and bathroom cleaners, oil-based cleaners, and solvents.
Stick to cleaners such as the ones we recommended or different ones which are made specifically for cars that use vinyl wrap.
What Else You Need to Know?
When changing the appearance of your vehicle, make sure to inform the local government in charge and the insurance company regarding the changes. Even though vehicle wrapping is less regulated, informing the local government is the most preferred action to be taken especially for advertisement purposes.
Lease cars are also applicable for vehicle wrap since the film can be removed afterward without damaging the original paint. But make sure to check your lease contract and inform the leaser regarding the car wrap.