In order to always experience smooth and enjoyable rides, the tires on a car's wheels should always be well-balanced – just like a relationship! Let's just say that you definitely don't want to be in the car when unbalanced tires give out!
The point of this procedure is to ensure an even weight distribution around the entire wheel. Unbalanced tires are heavier in some portions and lighter in others – which means that a certain area will wear out faster.
This shouldn't be the case, and the entire wheel needs to be worn down evenly. 
Using tires that are unevenly weighted will cause poor fuel economy, vibration in the steering wheel, and vibrations in other parts of the cabin.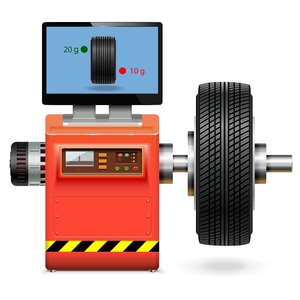 How Much Should You Budget for Tire Balancing?
Being a regular maintenance item included in most vehicle tune-up routines, tire balancing may be requested at an auto shop as either a stand-alone repair or combined with a related service such as tire replacement and wheel adjustment. 
Many independent shops offer lifetime warranties for a set amount so that you can just bring your car back to a mechanic anytime you need to have the tires re-balanced.
Before we jump right into the pricing numbers, let's take a look at a few of the factors that can influence wheel balancing cost. 
The first, and most obvious, is the location of the auto shop. A mechanic's hourly rate is different depending on location and makes up the majority of the maintenance charge. Vehicle type can cause a slight variance as well – as some cars might take longer to work on than others. But the difference isn't that dramatic.
Depending on what the auto shop finds after they complete their initial inspection, you may need to re-balance one or all the wheels. This will factor into the overall repair cost. If you've just recently purchased tires though, check back in at the place where you bought them – most will do a factory grade re-balance for free.
Keep an eye open for coupons that can decrease the cost to get tires balanced by a huge amount. Many auto companies give exclusive discounts to members and may include additional small parts such as gaskets at no extra charge.
Based on our research and including the factors shown above, tire balancing costs about $8 to $20 per tire, with a typical price of $10-$12 for a tire. 
Auto companies that offer services within this price range include AAA, Firestone, Les Schwab, Meineke, Midas, Pep Boys, Sears Auto, Tires Plus, and Walmart Auto. Have a look at some samples, 
| Shop | Price | Details |
| --- | --- | --- |
| Midas of Madison | $57 | For four tires. The service includes a computer spin balancing. |
| Pep Boys | $15 | Per tire. Lifetime tire balancing service. An additional cost of 10% up to $35 for shop supply. |
| Mr. Tire | $50 | For four tires. Service includes tire rotation, flat tire repair, inflation, mounting, and balancing. |
| Costco | $22 | For four tires. For Costco Members only. The service includes rotation, balance and nitrogen inflation of the tires. Add $4 for TPMS reset. |
| Mercedez-Benz | $50 | For four tires.Service includes wheel rotation and balancing. |
| Bayside Toyota | $15 | Per tire. Includes both rotation and balance. |
| Walmart | $12 | Per tire. Lifetime balance and rotation, every 7500 miles. |
Meanwhile, PriceHonda service center has conducted a survey to compare their service and parts fees to the other competitors. The survey was conducted last August 2017 and uses the car model 2011 Honda Accord V6 as a parameter.
| Price Honda | Firestone | Pep Boys | Martel's Foreign Car | Sears Auto Center |
| --- | --- | --- | --- | --- |
| $49 | $48 | $35 | $60 | $76 |
It usually takes 30 minutes to balance the tires of a standard Toyota Camry or other sedan type vehicles and anywhere between 1 and 1.5 hours for bigger trucks and SUVs.
If you need to do tire balancing on your wheels right after they've been mounted or rotated, it's possible to DIY the job but it's not recommended as the cost involved will most likely exceed the amount you would save.
Typical wheel balancing includes:
Wheel removal
Mounting each wheel on a state-of-the-art dynamic computer-controlled spin balancing machine
Detecting and locating any imbalance
Turning each wheel to make sure the weight of the wheel and tire are balanced evenly around the axle
Establishing optimal balance of the tire/wheel assembly by correcting any imbalance
Check and set tire pressure to your vehicle's specification
Courtesy vehicle inspection
Attaching a lead weight on the opposite side of the tire to compensate for weight differences
Remounting tires and wheels
But if you need to change tires, installation should also be considered. Thus, it is important to also know the cost of these procedures.
For the tire installation, the average cost is around $15 per tire. On the other hand, tire rotation typically ranges from $35 to $45.
As for wheel alignment prices, it changes from $40 to $110 for four wheels. 
There are certain types of vehicles that call for additional workups. These may include wedge adjustment/shim kits to return the steering and suspension alignment to their original specifications. So you may want to take note of the following costs:
4WD/AWD Shim Adjustment – starting at $69.99

Front Cam/Wedge Adjustment – starting at $49.99

Rear Shim Adjustment – starting at $49.99
Some tire stores sell an upgraded type of warranty that covers various road hazards like nails, and also includes balancing as well as a free rotation for the life of the tire.
If you hit a curb and blow out a tire, the road hazard protection would replace the tire for you for free. So depending on how you drive, and the cost of the road hazard upgrade, it may or may not be worth it to you.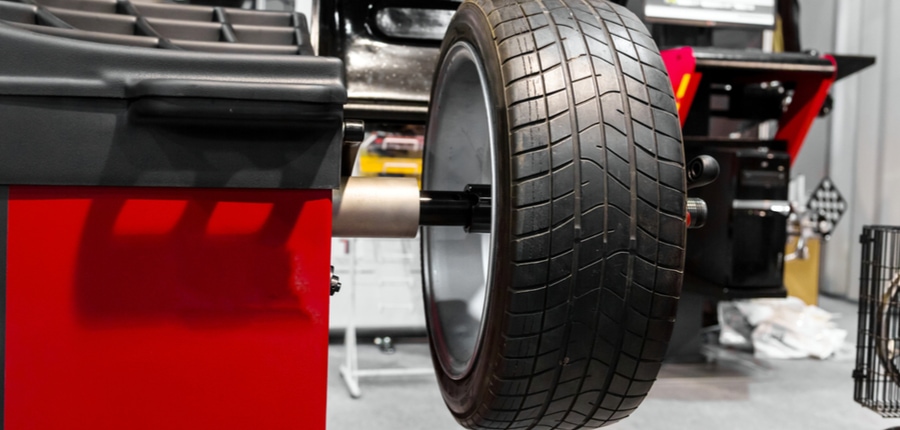 What's the Point of Getting Your Tires Rebalanced?
Rebalancing a tire is an extremely precise process. In many cases, the weight on one side of a wheel may only be fractions of an ounce indifference.
When this improper alignment happens, and you ignore it, it would cause damage to your tire assembly, bearings, and shocks.
The ultimate goal is to make sure that when the wheel is mounted on the axle, the weight pressed on should settle evenly around the axle. You know that your tires are out of balance when there is an uneven vibration while driving and worse, on a smooth road.
Wheels can become unbalanced from simple, everyday activity. Manufacturing defects can also contribute to the problem. If you're prone to driving over bumps and holes in the road, this can also speed up the wear and cause the tire treads to decay faster.
Many wheels are actually manufactured with special weights on them which are used to maintain the fine balance on the tire. This small weight can get rubbed off or fall off while driving which will then cause the wheel to become unbalanced over time.
Unfortunately, it must be noted that these weights which end up falling off the wheels also have environmental consequences. 
It was found that these lead weights were toxic to the environment and have since been banned for use on automobiles in Europe and some states in the US. Alternatives to lead weights include lead alloys or completely lead-free weights.
How Often Do You Need to Do Tire Balancing?
Tire balancing is usually done during installation and mounting of new tires. Rebalancing will be done as part of maintenance checks or annual tune-ups.
Many tire dealers provide free lifetime rotation and tire balancing with new tires, but a lot of customers aren't aware of this fact and/or choose to neglect the tire balancing part of the maintenance check. 
In general, tire balance is recommended to be checked every two years or every 5,000 – 7,000 miles, whichever comes first.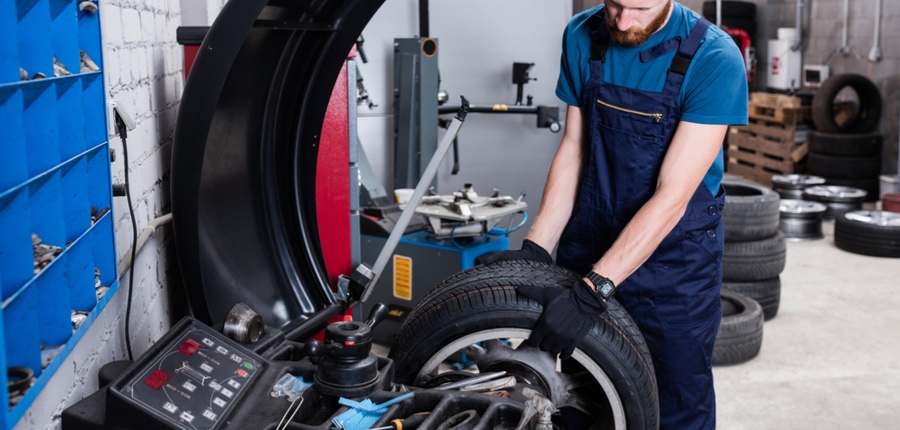 Other Useful Tips for Automobile Users
This section is intended for new technicians as well as home mechanics and car enthusiasts. 
Rebalancing a tire at home is a great way to save money long-term off of repairs, but be warned that a special machine is needed and you should be familiar with how to operate it.
There are many different types of wheel balancer machines such as the laser guided Coats 1250 tire/wheel balancer, which is what we recommend you use.
These machines can cost from a few hundred dollars up to more than a thousand, so rebalancing your car's tires at home probably isn't going to be cost-effective for you in the short-term but can definitely end up saving money for you in the future, especially if you own multiple vehicles.
If you suspect that your vehicle has wheels which are out of balance, one of the first and simplest steps you can take is to check the side of the wheel to see if the lead weight has come off. If it has, you'll need to buy a new one and possibly bring the vehicle for a repair, although re-installing the weight isn't very hard and you can probably do it yourself after a bit of research.
Take careful note of excessive vibration in the cabin while driving, especially on the steering wheel or in specific areas (the front or rear passenger seat, for example). 
If the entire vehicle is shaking – that could be a sign of tire imbalance, but may also be an indicator of issues with the engine or other parts. 
Decreased fuel economy is a big problem that can be caused by worn-out tires but is more than likely related to a separate car issue such as a leak in the cooling system, engine trouble, or even with the accelerator.
If you find yourself frequently visiting the gas station more and more often, it's recommended to bring your car for inspection. 
At the end of the day, tire balancing can be an easy thing to pass on – we know the feeling all too well. There are many small car repairs that seemingly can be put off for another day, but which actually come back to haunt you like a skeleton in the closet. 
We highly urge you to listen to your instincts and pay attention to potential car problems, as that's the easiest way to save yourself from high repair costs.