Power windows are a convenience of modern automobiles – created to allow easy opening of both passenger and driver-side windows. The technology also made it possible for the driver to either lock or unlock the window from the panel on the driver-side door.
Besides convenience, power windows also add an extra layer of security for a car; preventing thieves from breaking in via traditional methods.
As power windows use electricity and are no longer fully mechanical, they can break down after repeated use and the internal parts will, in most cases, need to be completely replaced to correct the problem.
How Much Will You Have to Pay Upfront?
The cost to fix car power windows will depend greatly on the specific type of damage that has occurred. The most common types of issues are a broken window motor/regulator assembly or window switch.
A window switch repair will cost about $85 to $260 on average. A window motor/regulator assembly, on the other hand, is quite an expensive repair – ranging from $160 to $1,200 across all vehicle types.
Similarly, the year, make, and model of your vehicle will also play a role in determining the final charge.
Here are a few examples of how much you can expect to pay for a window switch repair based on different car types:
1969 – 1971 Dodge Truck – $92

2012 Volkswagen Golf – $85

2009 Dodge Ram 3500 – $207

2018 Honda Accord – $247
Here are a few examples of how much you can expect to pay for a window motor/regulator assembly replacement based on different car types:
2012 Volvo C70 – $987

2005 GMC Sierra 2500 HD – $188

2009 Buick LaCrosse – $209

2014 BMW 535d – $442

2011 Audi A4 Quattro – $447

2012 Porsche Cayman – $1142
The automobile power window repair cost can be broken down into two parts in order to understand how the cost is calculated. You'll be paying around $118 to $1,116 for the window motor/regulator assembly part itself.
Remember, the variance in the range will depend on where you actually bring your car to be serviced as well as the brand of the part. For a car with a power window switch issue, the cost of the parts is between $15 and $180.
The other piece that makes up the total power window repair cost is the labor charge. This varies from $70 to $170, depending on a mechanic or automotive technician's expertise and the location.
As for service locations, all major cities in the US have auto shops that will tend to the repair, which takes about 60 minutes on average to complete. These range from big car dealerships, chain auto centers, to small repair businesses.
Several very popular options that many users take advantage of are Pep Boys, Firestone, and O'Reilly Auto.
Have a look in your local listings and find what's available in your area. Here are the prices that several auto shops offer to get you started:
| | | |
| --- | --- | --- |
| Auto Shop | Service Cost | What's Included |
| San Antonio Autoglass | $170 – $625 | Parts and labor |
| Aone Mobile Mechanic | $80 – $200 | Parts and labor |
| Omaha Mobile Mechanic | $100 – $300 | Parts and labor |
If your car is still under warranty, consider bringing it back to where you bought it. You could also end up saving a lot by investing in insurance from companies such as Metromile, State Farm, and Mercury if your car isn't currently covered.
An alternative option is to fix your power windows on your own without bringing the car to a repair shop. Doing this will help negate some of the high charge associated with a mechanic doing the work.
The job is quite easy too so you don't need to be worried about messing something up. If you're interested in home repair projects, fixing your car's malfunctioning power windows is a great idea.
If you'd like to give it a go, refer to the short guide that we've included in the last section. Also, make sure that you have your owner's manual available to help you with the job.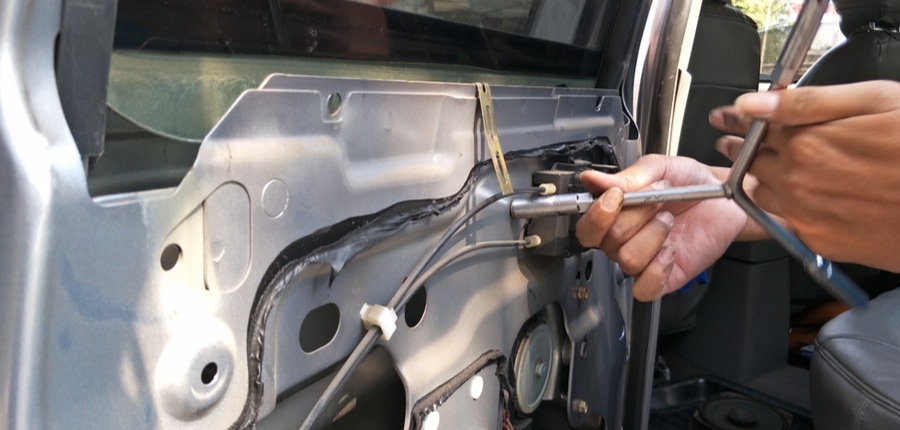 How Does A Power Window Work?
A power window uses several components in order to operate and allow a passenger to catch a cool breeze with just the push of a button, as compared to an old-fashioned manual car window which opens via rotation of a crank.
It is so popular that some automobile makers have completely eliminated manual cranks from all their car models.
Power windows are not only easier and more convenient to operate, but they are also safer as they are inoperable when the car is not running. These are a security feature which makes it more difficult for would-be thieves to gain entry to the car.
These windows are connected to the car's electrical system and are thus dependent on the ignition. With the way that they work internally, it's literally impossible to force a closed window open.
The most notable parts used in a power window system are the window regulator and the window motor (also called window regulator motor). In some cars, the regulator and motor are built as one single unit and in others, they are two separate parts.
The regulator is the mechanical part that serves to move the glass windows up and down. The motor is electric-powered and it works to operate the regulator. Each door of the car has a window regulator built-in.
There are two basic types of window regulators: the cable-type and the gear-drive type. Window regulators do not need to be manually adjusted – that is, they're maintenance-free parts.
Power windows have several safety features designed to protect young children in the backseat who may be prone to pushing the automatic up/down button.
As there have been cases in the past where a child got their hand, fingers or even head trapped by the window while rolling it up, manufacturers needed to take necessary precautions by adding built-in safeguards to the motor and regulator.
These safeguards include circuits that monitor the motor speed and can reverse the power to make the window go back down in the event that an obstruction is detected.
Common Problems with Power Windows
There are many things that can cause a power window to go awry. If either the regulator or gear breaks or stops working, they will need to be completely replaced.
If only one of the parts is broken, it's recommended to replace both of them as a good form of preventive maintenance.
If the window regulator cable breaks, the window may jam or fall down inside the door. When the cable becomes frayed or the cable guides get worn out, you may hear squeaky noises coming from the door when the window is moving.
The window may also then refuse to either go up or down.
One problem that occurs in particularly cold cities is where the window becomes frozen when in the closed position. If the switch is pressed while the window is frozen shut, it can separate from the regulator and need to be re-secured.
Depending on the model of car, the regulator could be fixed in this instance or it might need to be replaced.
In some cases, an automobile manufacturer will identify issues with the power windows of a car model after it has been released on the market. When this happens, the company will issue a recall of the window mechanism and will usually allow you to bring the car to a dealership to have the part replaced at no additional cost.
Some of the symptoms of a problematic power window include slipping or squealing noises when the window moves up or down, moving slowly, jamming often or not closing fully and obvious crookedness on the window pane.
Another common one is when you press the switch and nothing happens, but you hear the sound of the window motor whizzing.
All of these issues indicate a problem with the power window and should be an alarm for you to have the vehicle inspected as soon as possible.