Emergency brake cables are one of those car parts that you never see and never really care about until you're driving through snowy weather down an icy slope, lose control of the wheels, and pull the emergency brake – only to find in horror that nothing happens.
In order to avoid being in this situation, appropriate attention must be given to your emergency brake and all its components.
While emergency brakes don't usually run into problems, long periods of inactivity, as well as adverse weather conditions such as the one described above, can cause the parts to break down and suffer damage.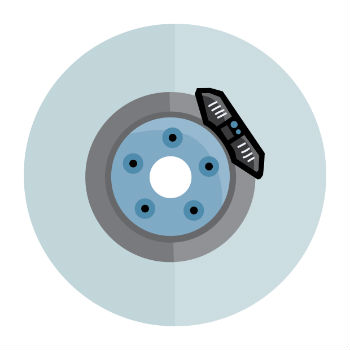 If such damage reaches a certain extent, one or more parts in an emergency braking system may end up needing to be replaced.
Cost to Replace Emergency Brake Cables
Emergency brake replacement usually involves changing the cable that runs underneath the car from the front to rear.
If you'd like to just buy the cable and you are interested in honing your DIY skills and keeping a bit of money in your pocket, it's not too expensive. We've also included a handy guide at the end of this article to help you complete the repair on your own.
The emergency brake replacement cost for a cable alone ranges from $5 to $250.
The exact price depends on the year, make, and model of your car, as well as the brand of the cable. There are vehicle-specific cables and general cables that can be used for any type of car.
For example, a Beck Arnley parking brake cable for a 2007 Audi A4 costs $27.10 apiece, but the same brand of cable for a 2002 Volkswagen Cabrio costs $14.36 apiece. On the other hand, a Genuine parking brake cable for a 1989 Nissan 300ZX costs $175.29.
As the price greatly varies, here's a sample list of emergency brake cable price ranges by brand to help you decide. This list is by no means complete and there are plenty more brands out there to choose from:
ACDelco – $2.07 to $281.81
Bosch – $9.13 to $72.03
Dorman – $1.75 to 142.13
Motorcraft – $5.70 to $128.54
Raybestos – $1.70 to $94.49
Wagner – $2.13 to $216.92
Brake cable kits are also available which include all the parts needed for a complete brake cable/housing install. Such parts may include brake housings, open-end caps, cable tips, tube tops, cable donuts, rotating hooks, and of course the cables themselves. The cost of a brake cable kit can range from $100 to $330, with the same factors as shown above having an effect on the price.
On the other hand, emergency/parking brake cable replacement expense that includes the labor/service fee for some specific make and model are as follows:
| | |
| --- | --- |
| Vehicle | Total |
| 2004 Honda Accord | $135 |
| 2006 Audi TT Quattro | $116 |
| 2008 Chevrolet Express 1500 | $89 |
| 2009 Mercedes-Benz B200 | $274 |
| 2010 Porsche Panamera | $184 |
| 2010 Volkswagen Passat CC | $160 |
The good news is that that emergency brake cables very rarely need to be replaced. They'll normally start to have problems that are relinked to signs of aging. That's when a car is more than 10 years old and has over 145,000 miles.
Other factors can warrant the need to replace a cable, but most car users easily avoid any issues by simply using the emergency brakes every day.
Cost to Replace Emergency Brake Handle and Shoe
Emergency brake handle and shoe replacement range from as low as $5 to around $30 and $10 to $20, respectively, for the spare parts alone.
To give you an idea of the total cost if the service fee is included, a parking brake replacement cost of the release handle for Mercedes Benz 2000-2011 Model E, CLA, SLK, ML, S, Class is around $45 to $90.
On the other hand, the estimated cost for emergency/parking brake shoe replacement for the parts and labor for some vehicle make and model are the following:
| | |
| --- | --- |
| Vehicle | Total |
| 2004 Hyundai Santa Fe | $154 |
| 2004 Infiniti QX56 | $258 |
| 2007 Porsche Boxster | $506 |
| 2009 Buick Allure | $232 |
| 2010 Chevrolet Malibu | $173 |
| 2013 Cadillac XTS | $152 |
Where to Have Emergency Brake Cables Replaced?
You can have your emergency brakes replaced at pretty much any auto repair shop in the United States. The first place to consider would be the dealerships of the manufacturing company of your car. Chevy, Ford, GMC, and other well-established brands have auto centers in all major cities.
If you'd like to check other places, try licensed service centers. Here are a couple of the more well-known ones:
O'Reilly Automotive Inc.
AutoZone Inc.
Icahn Automotive Group (Pep Boys & Auto Plus)
Fisher Auto Parts
Replacement Parts Inc.
How Do Emergency Brakes Work?
Since the early days of automobiles, great importance was always given to safety and manufacturers have constantly pushed the limits in terms of how to achieve complete protection of the driver, any passengers, and the vehicle itself. The emergency brake was originally created and installed in order to provide a "last resort" method of stopping a car during an accident.
An emergency brake has many names – it's also referred to as a hand brake, parking brake, or e-brake. There are four types of emergency brakes that are used in today's cars:
Center Lever – this is the most common type of emergency brake. It's easily identifiable between the driver and front passenger seats. To activate the brake, simply pull the lever up. To release it, press the button on top and push the lever down.
Pedal – an emergency brake pedal is smaller than the other pedals and is located down near the other pedals. Press on it with your foot until you hear a clicking sound, which signals that the brake has been engaged. To release, there should be a small lever right above the brake that you need to pull.
Push Button – this type of e-brake is seen mostly on newer-model vehicles. It's located somewhere on the electronic dashboard display and is usually marked with a "P" symbol. Push to engage and push to release.
Stick Lever – nowadays, it's only found in older-model cars. The lever is located under the instrument panel and you can engage or release the emergency brake by pulling/pushing the lever.
Emergency brakes are completely independent of the regular service brakes in a car. They work mechanically which means that even if your car completely dies or the hydraulics line becomes compromised, you'll still be able to engage the emergency brake.
Due to advancements made in brake technology, emergency brakes are no longer truly needed or used for emergencies but as an extra precaution when parking. Most people today use e-brakes only when parking, thus, they came to be known as 'parking brakes'.
Parking brakes usually only affect the rear wheels on a car, but some older-model European cars still use them on the front wheels. The mechanism that controls the brakes is located in a system of cables underneath the car which run from a pulling mechanism to the two rear wheels. In cars with drum brakes, engaging the emergency brakes will activate the pulling mechanism which runs cables directly to the brake shoes – bypassing the hydraulic system.
Cars that use a disc brake system on the rear wheels will either have cables running directly to the brake calipers or have an auxiliary drum brake mounted inside of the rotor. This auxiliary drum brake is used exclusively for the emergency brake and also bypasses the hydraulic system via connected cables. Push button e-brakes work a little bit different in that an electric motor controls the pulling of the cables.
Emergency brakes are also highly used in street racing to perform turns using rear wheel drift, a technique which has become well-known due to the popularity of Hollywood films such as the Fast and the Furious franchise.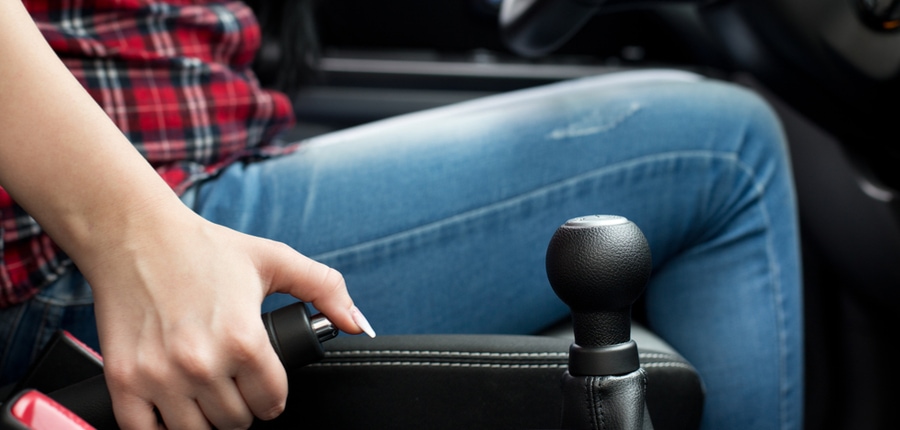 Why Do Emergency Brake Cables Need to Be Replaced?
Given their importance, emergency brakes should be checked on periodically for any problems. It's somewhat rare to actually experience any issues with them but it pays to go the extra mile for safety's sake.
E-brakes may either need to be repaired or replaced depending on what kind of trouble they're having. To prevent troubles with your emergency brake, it's recommended to use them every time you park the car. Most of the issues with them stem from lack of regular usage.
A parking brake cable can get stretched out as it gets older. In order to fix it, it needs to be adjusted until the optimum tension is achieved. If the pulling mechanism lacks lubrication, the brake can also stick when attempting to release it. This problem can be easily remedied by re-greasing the cable lines. But in some cases, more drastic measures need to be taken.
When driving in very cold weather, it's important to watch out for frozen cables. This will put you in a very dangerous situation when driving through snow, as a frozen cable will disallow the brake from functioning and can end up in a car crash.
Dirt, debris, and mud can also clog up the cabling and solidify, becoming hard clay which will stop the cables from slowing down the wheels when using the emergency brake. If there's too much build-up, a mechanic might recommend replacing the cables altogether rather than risk driving with a malfunctioning e-brake.
Parking brake cables are encased in a protective sleeve but they can still become corroded or rusted due to inactivity and exposure to the elements. When attempting to brake with cables of such quality, there is a possibility of the cable breaking or snapping. If this happens, you're going to need to replace the emergency brake cables.
In almost all situations, problems with the emergency brakes will either lie with the cables, pulling mechanism or at the brake calipers/brake shoes on the rear wheels.