The blower motor resistor is another one of those small car parts that you never knew existed, but is an important part of the big picture. 
The resistor works in tandem with a couple of other parts to control the speed of the fan which begins to circulate air when the heater or air conditioner is switched on. Not all cars use blower motor resistors, though.
Resistors are prone to failure which can cause fan speeds to go too fast or not work at all. Damaged blower motor resistors will need to be replaced.
Blower Motor Resistor Replacement Part Prices
A blower motor resistor price range is from $2.40 – $658.99. The price range is dependent on the brand of the part, the shop where you will buy the part, and your type of vehicle. These parts don't vary much except when it comes to quality. Some are made of cheaper plastic parts while others use OEM-grade materials.
Resistors might be sold stand-alone or in a kit along with a wiring harness, pigtail connector, and wiring crimps. These additional parts are included just in case you need to replace other parts besides just the resistor.
The year, make, and model of the vehicle make a big difference in the price. A Four Seasons HVAC blower motor resistor for a 2017 Ford Edge might cost $117.35, while the same brand and type of part for a 2014 Kia Rio only costs $26.20.
Here are some of the most popular brands on the market:
ACDelco
ACM
Behr
Crown
Dorman
Eurospare
Febi
Four Seasons
Genuine
Kaehler
Maneki
Motorcraft
The total cost of replacement will also include the labor charge for a mechanic to perform the work. In order to give you a more comprehensive idea of how much a complete replacement will cost, we've prepared a few estimated price ranges based on several types of vehicles:
| | |
| --- | --- |
| Vehicle | Total |
| Ford F-150 | $64 – $100 |
| Honda Accord | $105 – $235 |
| Toyota Camry | $87 – $141 |
| Chevrolet Silverado 1500 | $74 – $151 |
| Toyota Corolla | $72 – $107 |
| Nissan Altima | $65 – $116 |
Where Can It Get Serviced?
There are two primary types of auto repair shops that you can bring your vehicle to in order to replace a blower motor resistor. Automotive dealerships comprise 25% of the market and employ certified mechanics to do repairs and conduct inspections. Due to their experience, auto dealership mechanics are paid more and thus, their services are costlier.
Independent auto repair stores also have good technicians but they are usually good at individual repairs and specific issues. There's no guarantee that an independent repair shop can fix your problem if you bring in your car. But if you bring your Ford to a Ford dealership, you can be certain that it'll be fixed; albeit for a higher price.
Both types of auto repair shops are plenteous in most states and if you can't find one in your local areas, you can check out NYC Auto Repair Experts if you live in New York or Beetle's Auto Body which operates out of Billings, Montana. The estimated replacement cost of blower motor resistor for the labor alone is $35 – $78.
On the flip side, the best way to save money is to not have the resistor replaced at any auto shop but to replace it at home by yourself! If you'd like to give it a try, take a look at our step-by-step guide located at the last section.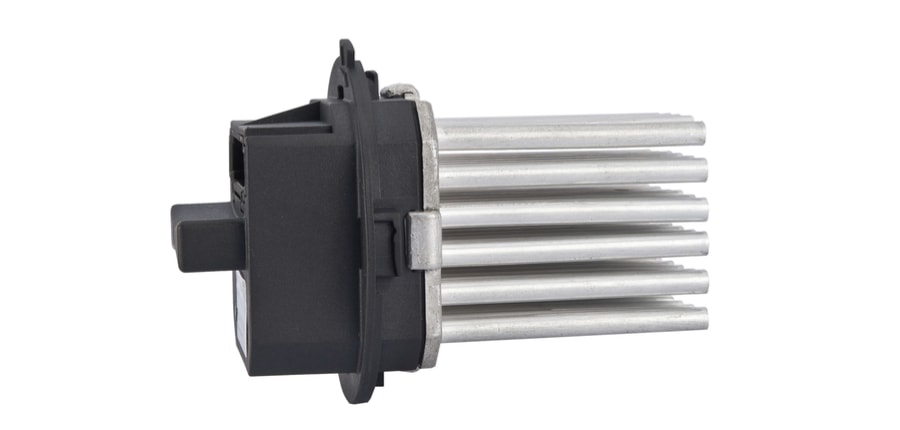 What Is a Blower Motor Resistor?
A blower motor resistor is one of the key electrical components used in a car's heating and air conditioning system. Once a heating or air conditioning system is switched on, a blower motor operates a fan which pumps air through a series of vents.
The blower motor resistor is what controls the speed of the blower motor by reducing voltage. Some cars use a fixed range of fan speeds, usually 4 or 5, and the resistor is what keeps the fan from blowing at the highest speed all of the time.
This resistor type operates between a vehicle's HVAC (heating, ventilation & air conditioning) system and the A/C controls on the dashboard. It's usually mounted near the blower motor and can be accessed by removing the glove compartment or checking under the dashboard.
On some types of cars, the entire dashboard must be disassembled in order to reach it.
Most modern vehicles will use an electronic blower fan control module. This type of system does not use a resistor to regulate the speed of the fan as it is done automatically and gradually by the control module system.
For vehicles that use a blower motor resistor to dictate the speed of the blower fan, there are two types:
resistors that use coil wires
resistors that use transistors and a circuit board
The coil-wired type is mostly seen in older cars and uses various sizes of coiled wire for each fan speed. The transistor type is seen on the newer-model cars and utilizes a printed circuit board complete with a fully integrated circuit.
Symptoms of a Bad Blower Motor Resistor
A blower motor resistor can possibly burn out, suffer external damage or become corroded and overheat. Such issues can cause the HVAC system to erratically blow out hot and cold air, render the A/C controls useless or in some extreme cases, cause the entire HVAC system to shut down.
Car symptoms and their corresponding sources are sometimes intertwined and therefore it's difficult to determine the real offending part based on a single symptom. However, there are a few general telltale signs for you to watch out for that indicate a bad blower motor resistor:
HVAC Controls Are Non-Responsive – If a resistor burns or blows out, there is nothing to regulate the speed of the motor and subsequently, the blower fan. This means that the fan will run at the highest speed and any attempt to lower the A/C using the controls inside the car will not change anything. Other temperature controls on the dashboard may not respond as well. The blower motor might also become stuck on one speed and refuse to change.
HVAC Not Turning On – In some cases, a failed resistor can even cause the fan to completely stop working. Since the blower motor is being powered by the resistor, the fan will also shut off. This, in turn, means that the vehicle will fail to cool or heat up sufficiently. The vehicle can still be operated, but it definitely won't be a very comfortable environment for the driver and any passengers.
Settings Not Working – When a blower motor resistor malfunctions, it's common for certain settings to shut off. The same symptoms may also be triggered by a blower motor switch, so make sure to conduct a proper diagnosis in all situations.