Transporting a car across an ocean can be a hassle, and putting in the time to find a reliable carrier isn't all that much fun.
There are tons of ways to transport a car – some of the relocation options available are via shipping containers, RORO or cargo airplanes. However, the most inexpensive and widely-used method is using ocean containers.
In most cases, the process is not as complicated as it seems. Continue reading to find out more about international car shipping rates, factors affecting the pricing e.t.c.
International Shipping Options
Before we jump right into the cost of shipping vehicles, let's take a look at all the processes involved when shipping a car overseas.
First, you need to find a reliable carrier/shipper. The carrier, in most cases, will be responsible for the transportation of your vehicle from point A to point B. The trip in-between these two points may include "legs" or multiple points in the journey, or may not – it all depends on what's possible in your situation and what you've sorted out with the carrier.
A carrier may employ multiple middlemen to assist in the process. Your carrier should draw up the plans and present every detail to you along with the pricing.
In whichever state you live in, the car will first need to be picked up at the designated time and place. It will then be brought by a driver in either an open or enclosed car carrier to the port or airport, depending on what shipping method you've chosen.
Open car carriers are inexpensive but aren't that great for protecting against rain, dirt, debris, and other foreign objects. Enclosed car carriers are preferred for luxury cars and expensive models.
Air transport is quite expensive compared to the other methods, but it's faster. A car is quite heavy and will place a large load on the aircraft, so usually, only one car is loaded per airplane. This is what makes the price jack up, with the plus side being a quick delivery within a day or so.
Cars may be secured via cables and straps inside the cargo airplane or even placed inside a crate for protection.
RORO stands for "Roll-On/Roll-Off" and is another international shipping option that is ideal for heavy vehicles such as RVs, buses, and machinery. You drive your car directly onto the ship and directly off once you reach your destination.
There are pros and cons to using RORO – one good thing about it is that it's cheaper than paying for a shipping container.
A disadvantage, though, is that a person needs to be present to drive the vehicle and accompany the car all throughout the journey. Also, the car needs to be running. If you are trying to ship a non-working vehicle, you can't use this method.
Shipping containers are the middle ground when it comes to overseas transportation. This option can take up to 3 – 12 weeks for a car to arrive at its intended destination.
There are many variables that can extend the time frame, including multiple stops at other ports while on the route, inclement weather, etc. The destination country itself will obviously make a difference as to how long it takes.
Whichever method you decide to utilize, the car will eventually arrive at its destination. From here, a couple of other things need to be settled first before it can be put on the road and taken to its new home.
Firstly, there's a lot of pre-requisite paperwork. Ugh, we know right? Nobody likes paperwork, but your relocation company will need a letter from your lien holder (if applicable), two copies of a notarized title (of the vehicle), a Declaration of Dangerous Goods, and a Shipper Export Declaration.
Once the vehicle arrives, you'll also need to have your vehicle insured and registered in the new country. The registration process is different for every country, so make sure you research imported vehicle information.
There's also something called "Port of Entry Taxes" which you'll need to pay if you've transferred to Europe.
In most cases, a good shipping company will help you to handle most of the paperwork and simply provide you with a list of the requirements. Once the vehicle has arrived and everything's been worked out, it's time to figure out how to get the car from the port or airport to the target destination.
There are two ways this can be done. Either via a direct door-to-door delivery, or by picking it up at the arrival point. You can save money by picking up the car or having someone pick up the car and simply driving it to the destination.
This, however, will increase the miles on the vehicle, so it's probably not a good idea if the car is for sale.
A door-to-door delivery can involve multiple vehicles and in some cases where the destination is too far away, maybe the only option.
One Time Prices
Based on the research that we've been conducting with industry experts and various shipping companies the estimated average total amount that you can expect to pay is between $950 and $3,000 per car using shipping containers.
The shipping charge itself is roughly between $950 – $2,000, depending on the country and the type of vehicle.
Destination charges on arrival in the foreign country range from around $500 – $800. These include transportation of the shipping container from the port to a facility where it can be unloaded, customs agent fees, paperwork, registration, and insurance.
Also take into account that during the spring and summer, a lot more people are moving and with the higher demand comes higher rates for trucking.
Import taxes at the destination country are variable. In the UK, for example, you'll have to pay about 10% import duty and 20% VAT for private and commercial imports.
Shipping companies will usually help set you up with a customs agent who can handle the paperwork and legalities for you. This is especially useful if you're shipping the car to a country with a foreign language where communication may be difficult for you (France, Italy, Germany, etc.).
Insurance is always optional and international car shipping insurance prices will vary depending on the level that you opt for.
A-1 Auto Transport is a reputed company that offers international auto shipping. Here are a few examples of their international shipping charges:
New York, NY (New York port) to Germany – $1,200
Los Angeles (California port) to UK – $3,700
Las Vegas, NV (California port) to New Zealand – $2,400
Portland, OR (California port) to Puerto Rico – $3,300
Phoenix, AZ (California port) to Hawaii – $2,000
Columbus, OH (New York port) to Spain – $1,400
Detroit, MI (New York port) to Argentina – $3,000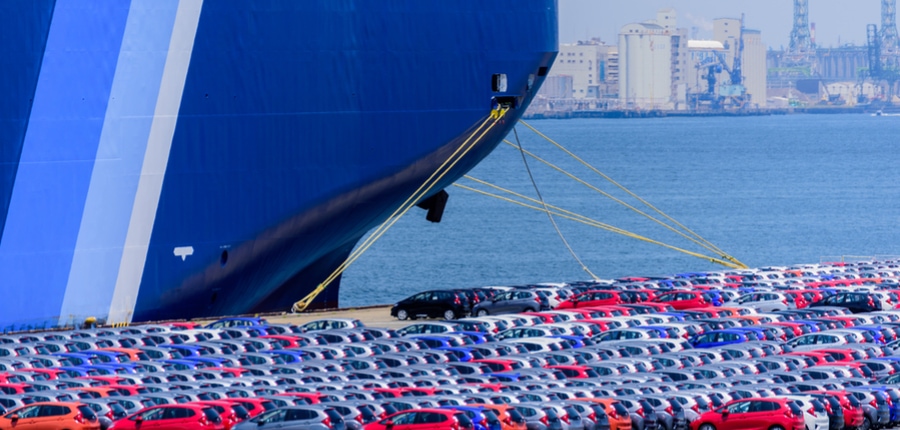 A Guide to Shipping Your Car Across the Ocean
The process is fairly straightforward, but given the sheer number of different things to handle at once, you may find it very challenging to deal with shipping a car, especially if it's your first time to do so.
We've prepared a guide that may act as your ultimate go-to reference when planning and preparing everything related to your upcoming automobile relocation.
There are also a few suggestions included that can help you cut down on costs! Without much further ado, let's get started.
Step 1: Research, Research, Research
The most essential step to take before making any sort of purchase is to conduct research – all the more so when planning a big thing like overseas car transport.
First of all, start gathering names and creating a list of all the international shipping companies and auto transporters that you might want to patronize.
If you have friends that have recently shipped a car overseas, give them a call and get some information! Use social media to reach to contacts and ask how their experiences went.
When building up a list of potential companies, look for their credentials, reputation, and certifications. A good shipping company should be licensed and bonded, and furthermore, transparent about their accomplishments.
Depending on the type of company, the license will vary. Freight forwarders use FMC (Federal Maritime Commission) licensing or a special license if they act as an NVOCC (non-vessel operating common carrier).
International shipping companies need to have a license with the Department of Transport. To further validate their reputation, ask for their DOT information to give you a better idea of what you're dealing with.
Although it may seem silly, don't underestimate the importance of checking with every company on your list if they are fully licensed and insured and if the carriers that they utilize are the same.
Ask the names of the carriers and research them as well. There's no such thing as too much research.
Step 2: Figure Out the Costs
Next, start doing research on potential costs. We've given you samples above, but even though you know how much it'll cost in general, it's time to start getting specific. Not all auto shipping companies will disclose their rate online, so in most cases, you'll have to request a quote.
Keep in mind that any prices that you see online may not be totally up-to-date as surcharges and fuel prices can cause rates to change often. You should be able to have a pretty good idea of how much you'll be spending once you're done with this step.
When requesting quotes, look at the dollar amounts and compare them with each other. Besides that, make sure to actually see what's included for each amount. Read it carefully so that you know exactly what you're getting.
Determine what you need in your situation: a port to port, door to port or door to door shipment. Is a roll-on/roll-off method viable for you? Or do you need to use an ocean container? How much are you willing to spend on in-land transportation once the vehicle arrives at the destination country?
Check if destination fees are included in the total quotation. Destination fees will be present no matter which country you go to.
Think about what you need more: the vehicle to arrive faster or to save money?
If you want to have your car shipped with as little hassle as possible just book a 20ft container, provide all the paperwork to your shipping company, and pay. A good middle ground to take would be to utilize the RORO method.
Just drive your car inside the hull of a ship and it'll be secured in place. Although you won't be able to keep items inside your car with the RORO method, you can actually put other stuff in an ocean shipping container along with the car.
Ask about the insurance policy offered by the international auto transporter and how much its rate is.
Insurance is there for peace of mind and is actually an optional item, so if it won't be the end of the world for you if the automobile that you're shipping becomes damaged in transit, feel free to go ahead and skip this part.
Step 3: Choose Your Shipper and Finalize the Details
So, once you've come to a conclusion and settled for a particular shipper, the company will give you a list of requirements and it's up to you to submit them as soon as possible to get the process moving along speedily. The documentation is straightforward and usually includes a clear, original title, a copy of the bill of sale, and a copy of your US passport.
If you're shipping via RORO, most companies only require photocopied documents. A certain US States may also require proof of payment and special notarized power of attorney.
Before handing your car over, make sure it's washed, emptied out, and you can take pictures of it for evidence of its state before shipping. It's a good idea to get it serviced as well to ensure that any internal issues have been fixed or maintained prior to travel.